Niwalker NK19 23000lm Powerful Searchlight Pocket Floodlight with 4*18650 High Discharge Batteries Flashlight
Brand: Mini Max
Product Code: NK19
Availability: 98
Product Description
Features
- Utilizes 4x CREE XHP70.2 LED with a max output of 23000 lumens
- Max. beam intensity of 39560cd and max. throw distance of 400 meters
- Constructed from aircraft-grade aluminum alloy
- Premium hard-anodized anti-abrasive finish
- Toughened ultra-clear glass lens
- Electroplated aluminum reflector with orange peel
- Integrated precision digital optics technology provides extreme reflector performance
- Advanced power management technology for an ultra-low standby drain
- With intelligent temperature regulation module, regulates its output and adapts to the ambient environment, maintaining optimal performance
- Electronic reverse polarity protection and over-discharge protection
- User-friendly Interface, easy & fast one-handed operation
- Dual side switches control all brightness levels and functions. (One is main switch and Another is Memory switch)
- Free to Select left, right two LEDs or four LEDs to work
- Body's knurling provide a better gripping surface
- Integrated battery magazine design allows for a lighter and more compact body
- Linear thread offer high strength and durability, allow tail cap twists smoothly
- Flat tail cap, convenient tail-stand capability
- Built-in Extra-large stainless steel lanyard ring
- It can be directly mounted to a tripod, turning it into a camp light or a fixed supplementary light
- Rating in accordance with IP68 (2 meters submersible)
- Purpose-designed to be compact, lightweight and portable
Specification
Dimension: 5.31"/135 mm (Length)*2.56"/65mm(Head diameter)*2.07"/52.5mm(Tail diameter)
LED Emitter: 4x CREE XHP70.2 LED
Max. Output: 23000LM
Working Voltage: 7.2V - 8.4V (±0.1V)
Compatible Batteries: 4 x 18650 High power button flat battery
Waterproof: IP68
Weight: 16.08 oz / 456 gram (without battery)
22.3 oz /633gram (with batteries)
Operation Instructions:
Main Switch (Switch with an indicator light)
1.Stepped Ramping: Single click the switch to turn the light on, press an hold on switch to change five different brightness, click agian to off.
2.Firefly/Moonlight: When the light is off, press and hold the side switch to get firefly mode.
3.Double click the switch to Turbo mode from any mode, one click to get back, except special modes (when get Turbo mode from except special modes,
one click to get back stepped ramping mode)
4.Triple-click to get strobe, click to off.
5. From off, Triple click and hold on switch to select left, right two LEDs or four LEDs to work, release the switch to confirm you desired selection.
6.When the light is off, four click switch to lock the light. It will flash 3 times while locked. Four click again to unlock, it will flash 3 times too while unlock.
7.When the light is off, five click switch to get battery power monitor. The flashlight will flash to indicate the corresponding voltage value.
Eg: It flashes 3 times slowly, then flashes 7 times quickly, that means the volt is 3.7V at this moment.
Memory Switch
This switch remembers Firefly mode and Stepped Ramping modes. When the main switch turn on the corresponding mode, press the memory
switch and the main switch indicator flashes twice to indicate that the mode has been memorized. Click the memory switch in any mode to start
the storage mode, and click the memory switch again to return to the previous mode.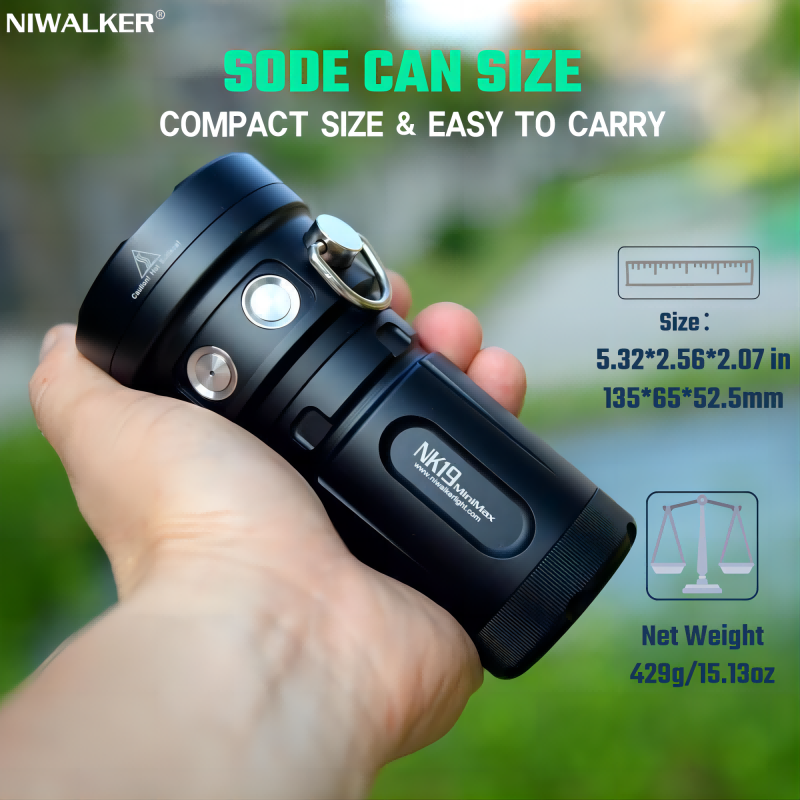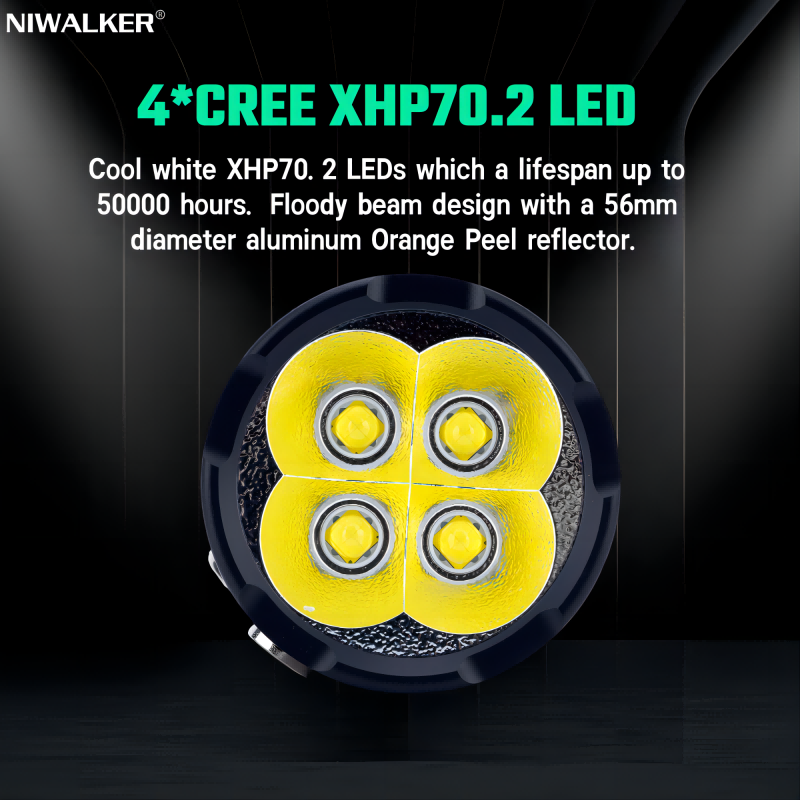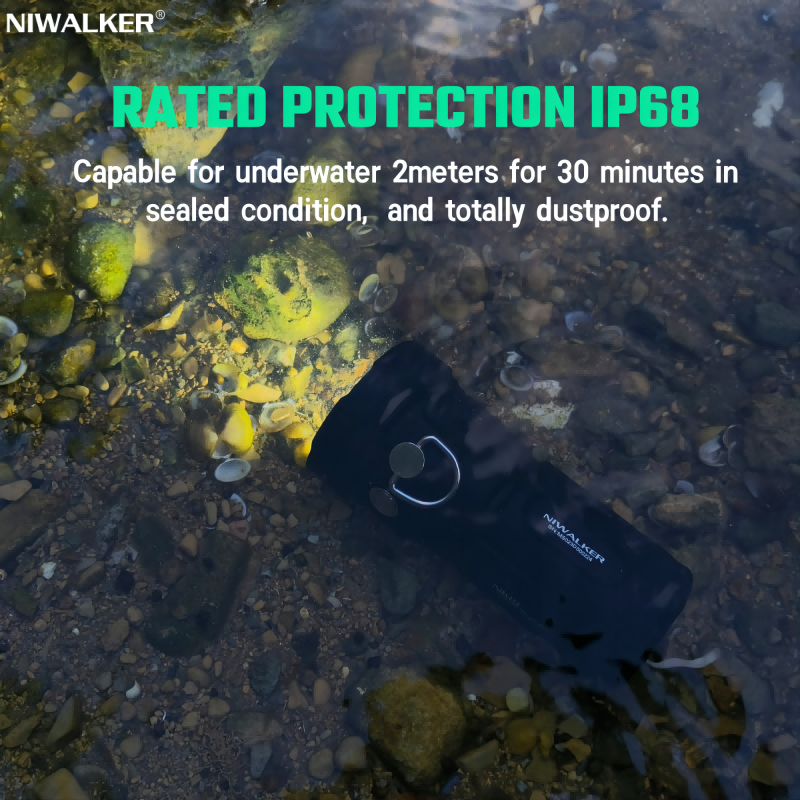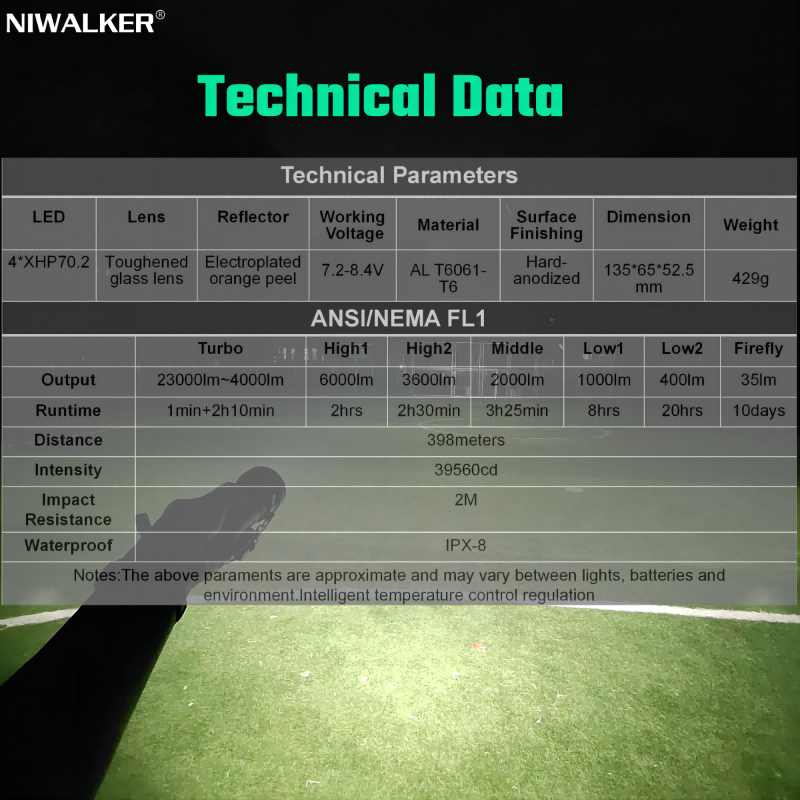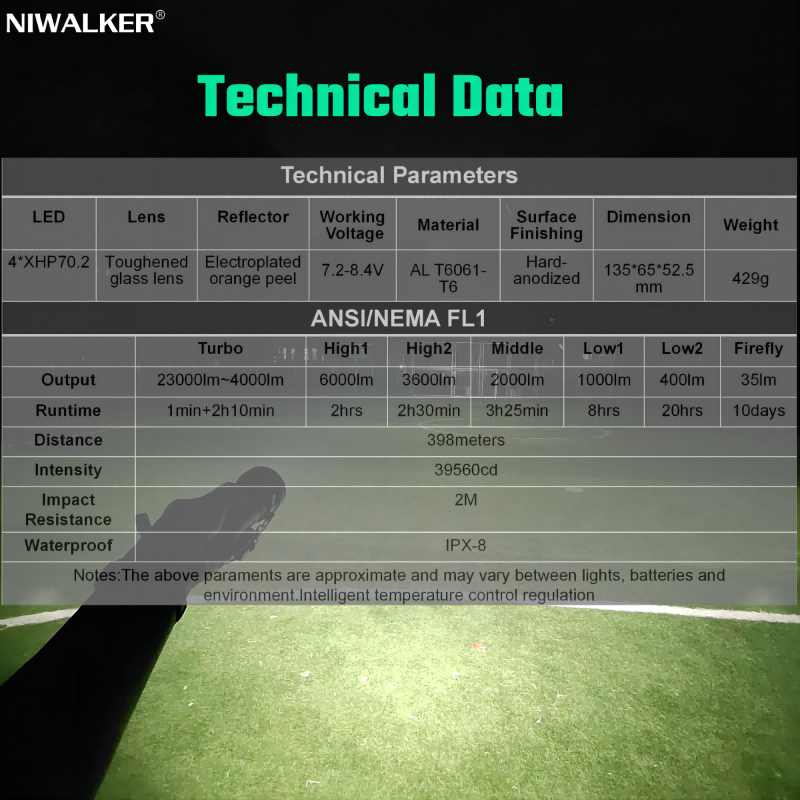 What's in the package?
- 1x Niwalker NK19 flashlight
- 1x Lanyard
- 2x Waterproof O-ring
- 1x User manual
- 1x USB C cable+8.4V 1A adapter
- 4x 18650 button top rechargeable battery (Option)